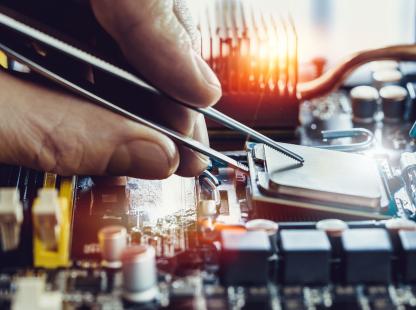 Ph.D. in Computer Engineering
Applicants are expected to have a master's degree in computer engineering, computer science, electrical engineering, or other related fields.

Admission Requirements:
Superior undergraduate students may apply to be admitted directly into the PhD. program. Such an accelerated program requires a minimum entrance GPA of 3.5, plus an interview with the ECE department Graduate Affairs Committee.
Students must demonstrate superior academic background in engineering, mathematics, and physical science; skills in programming; and proficiency in major areas of computer engineering and science. A minimum master's GPA of 3.5 on a 4.0 scale, or equivalent, is required for admission. GRE scores must be submitted. Foreign students must also achieve a minimum TOEFL score of 550.
Students who lack an appropriate background will be required to take additional bridge courses that cannot be applied as degree credits.
TOEFL:
International students must demonstrate English language proficiency. The minimum TOEFL score requirement is 79 (Internet Based), 550 (Paper Based) or 213 (Computer Based). The minimum IELTS score is 6.5.
GRE Requirement:
Required for all applicants. The minimum GRE requirement for PhD Students: V>150, Q>160
Degree Requirements:   
A program of study is determined in consultation with a department advisor. The student is required to pass a qualifying examination. Ph.D. students with a recognized Master's degree or equivalent are required to take four 700-level 3-credit courses (12 credits).  Ph.D. students with a recognized Baccalaureate degree are required to take eight 600-level or 700-level 3-credit courses (24 credits) of coursework beyond the Baccalaureate degree as well as four additional 700-level 3-credit courses (12 credits), for a total of twelve 3-credit courses (36 credits).  Master's project (course 700), Master's thesis (course 701), or more than two independent study courses (courses 725 and 726) cannot be used to satisfy these coursework requirements. A Ph.D. student may substitute a 600-level course for a 700-level course only after the academic advisor appeals on behalf of the student to the Office of Graduate Studies and receives approval. A Ph.D. program may define an additional set of required courses that must be pre-approved by the academic college (multiple colleges may be involved for interdisciplinary programs). Whether or not a program requires additional courses above the aforementioned minimum requirements, a Ph.D. student's dissertation committee may ask the student to take additional courses.
Ph.D. Dissertation Registration Requirements:
Ph.D. students who pass the Qualifying Examination (QE) must then register for 3 credits of pre-doctoral research (792B) per semester until they defend successfully the dissertation proposal.
Ph.D. students who defend the dissertation proposal successfully must then register for the 1-credit dissertation course (790A) each semester until they complete all degree requirements.
Students may take courses simultaneously with the 790 or 792 course as per Ph.D. program guidelines or dissertation committee recommendation.
Students who do not meet the following deadlines will be dismissed from the Ph.D. program.
The required coursework for the Ph.D. program and the (major part of the) QE must be completed successfully by the end of the second year in the program.
The dissertation proposal must be defended successfully either by the end of the third year in the Ph.D. program or four semesters after registering for the first time in the 792 pre-doctoral research course, whichever occurs earlier.
The dissertation must be defended successfully by the end of the sixth year in the Ph.D. program.Qualifying Examination.
Qualifying Examination:
ECE PhD Qualifying Examination Requirements